Exhibition Guideline
Exhibiting at the KISM 2022 in Paradise Hotel Busan (Haeundae Beach) Busan, Korea allows you to showcase your service or product to the Semiconductor researchers and engineers around the world.
To secure your booking and to ensure you gain the best possible promotional location, Please download the Exhibition Application form, fill out and fax or e-mail it to the KISM 2022 Secretariat with a copy of business registration certificate. (secretariat@kism2022.kr)
※ It can be early closed on a first-come, first-serve basis because we have a limit on the number of exhibition booths.
Exhibition Application Deadline: August 31, 2022
Exhibition Information
※ The detailed setting schedule will be provided soon via the conference website.
Exhibition Schedule
14 (Mon.): 08:00- 09:00 Booth Set up
14 (Mon.): 09:00- 18:00 Exhibition
15 (Tue.): 09:00- 18:00 Exhibition
16 (Wed.): 09:00- 17:00 Exhibition
16 (Wed.): 09:00- 17:00 Booth Demolition
Venue
Lobby, 2F, Paradise Hotel (Haeundae Beach) Busan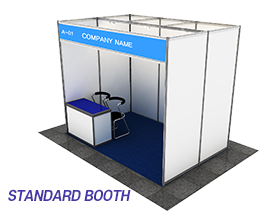 Type A

Exhibition Booth

Exhibition Fee (1EA)

KRW 9,000,000

Booth Size

3m (L) * 2m (W)

Standard Package
Place on upper part of signboard
1 Information desk / 2 Chairs
Electric outlet (2 holes)
Benefit of Exhibition
Free registration for 2 people
Logo on the program book
Advertisement of the company in the program book (1 page, Color)
Reduced Fee of Extra Registration ($600)
※ Applicants for additional facilities such as electricity, telephone, Internet, and furniture should contact the secretariat.
Type B

Photo Wall

Exhibition Fee

KRW 3,000,000

※ Logo in Alphabetical order

※ Co-production of participants

※ For sponsors with the photo wall,
you can register with $600
registration fee.
Type C

Advertisement in the Program Book

The inside of the front cover

KRW 2,000,000

The inside of the back cover

KRW 1,500,000
Account Information
Account Holder
The Korean Society of Semiconductor & Display Technology
Account Number
100-032-149220
Bank Address
20, SEJONG-DAERO 9-GIL, JUNG-GU, SEOUL, SOUTH KOREA
Cancellation Policy
Before August 31, 2022: 100% of full payment will be refunded.
Before September 30, 2022: 50% of full payment will be refunded.
From October 1, 2022: Full payment will not be refunded.
Cancellation of exhibition must be made in written format to the secretariat via e-mail.